Technology is laying the foundation for a truly smart home when it comes to security, where will be in the next ten years?
Already there are smart meters to track energy usage, smart thermostats to control heating systems, smart doorbells and cameras for home security as well as smart home assistance devices such as Amazon's Alexa and Google's Home Mini. Today, the 'smart, connected home' is the exception. In a decade or less it will be the norm.
Residential smart lock technology allows the user to go above and beyond what a standard door lock can offer. The smart lock provides multiple features accessed through an app on a smart phone giving a greater picture of home security. Undoubtedly a driver for this is that more people now want everything to be accessed through their personal device.
With a smart home lock there is no need to carry keys which eliminates the chance of them being lost or stolen, and it also allows users to cancel keys on the go if they need to restrict access. And because such technology works with most existing euro cylinders or multipoint locks (depending on different manufacturers models), it still complies with current home insurance standards.
Such locks are battery operated and wire free, wireless, cloud or mobile based – so no need for the expense and inconvenience of hard wiring – and are already in widespread use in commercial markets such as hotels, universities, airports, serviced offices etc.
What are the advantages of this technology over a traditional key and lock arrangement?
For residential customers in serviced apartments and the like, more powerful cloud based solutions are a common choice. Cloud access control provides a simple and secure solution to manage keys, users and doors across multiple locations – typically using a combination of smart phone app and smart RFID tag.
No software installation is required; all that's needed is an online device with an Internet connection. An online account is created and this is used to create access groups, manage users and view entries to the property from a smart phone, tablet or other device.
A hub unit fitted inside the building uses 2G, 3G or 4Gcellular connectivity to communicate with the wireless lock equipped doors. Users simply present their RFID tag to the lock which instantly engages so residents, visitors etc can enter easily and according to their access rights.
What about the individual home?
For the domestic homeowner there are a number of options on the market and most make use of the smart phone to take the place of the 'key'.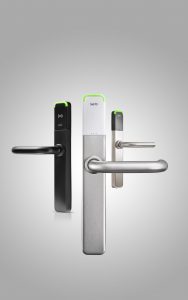 Some take the form of a traditional handle set and have a prominent reader unit at the top. Users can configure, control and unlock their smart door lock from their smart phone via a secure Bluetooth app. They can give family and friends access by sending a virtual key to their smart phone and keep track of who comes and goes via the app.
Another variation is to have a smart motorised lock. The advantage of this is that the door looks just like a normal door with a standard-looking handle and keyhole; there is no impression from the outside that the door is smart. The electronic unit is housed on the inside of the door and again works with a smart phone app. But the attraction of this product is that it also has an auto unlock feature.
With auto unlock activated, coming home is as easy as it gets. Automatic GEO location detection determines your position when you enter the auto unlock zone, approx 500 – 1000m from the door,  and when you get in Bluetooth range approx 0 – 5m, it unlocks your door for you. Not only that, but with automatic timed locking it can do exactly the same thing in reverse and automatically lock the door when you leave the house.
As with most things, the key to success lies in recommending the right product for the customers' needs. But with smart security, the technology is already here to deliver tomorrow's smart home today.
For further information visit: www.saltosystems.com